It has been stated that in spite of its shot comings, such as low quality and poor design elements, AMC (American Motors Corporation) built some of the best blend of muscle car/sports cars in the early 1970's. During the 1972 and 1973 model years 4,152 Javelins were produced with a special interior option designed by fashion design Pierre Cardin. Cardin's crest appeared on the front fenders. The trend for fashion designers doing special interiors goes on, but Cardin's continues to be the "most daring and outlandish."
The 1973 Javelin was updated slightly. Most noticeable changes were to the taillights and grille, though the AMX grille remained the same. A new roof stamping this year gave the Javelin a completely flat roof without "twin-cove" indentations, meaning a full vinyl top was now available. Also, front seat design was changed. Gone were the "Turtle Back" seats of 1970-72 in favor of a more slim design which was not only lighter than the previous seat, but also more comfortable and gave more rear passenger leg room.
By 1974, the automobile marketplace had changed. Chrysler abandoned the pony car market. Whereas Ford replaced its original Mustang with a smaller four-cylinder version, and other pony car manufacturers also downsized engines, the Javelin's big engine option continued until the production of the model ended in October/November 1974 amidst the Arab oil embargo and overall declining interest in high performance vehicles. American Motors also needed a manufacturing line to build its all-new AMC Pacer. Nevertheless, the 1974 Javelin production reached its highest point among the second-generation models with 27,696 units, of which 4,980 (about 15 percent) were Javelin AMX models.
The 1970 AMX was the best version yet of the muscle car/sports car mix. It was also, unfortunately, the last true AMX. One of the fastest, but most underrated of the Muscle Cars, the AMX received significant styling changes for the 1970 model year.
Changes to the 1970 model included a different grille and hood, a new interior and different tail lights. The hood included a Ram-Air induction scoop that forced cool air into the engine compartment. On the sides of the car were simulated side exhaust pipes. Underneath the car was a new front suspension and two new engines were introduced. They were the new AMC 360 V-8 for its base power plant and a 390 cu.in. as the upgrade option. Both engines had better-breathing exhaust ports, and new 4-barrel carburetors.
AMC hoped these changes make the car look more like its competitors. That was a mistake and sale came in at about half the number they had made the previous year. It seems that AMC customers enjoyed being a little different and living outside the main stream.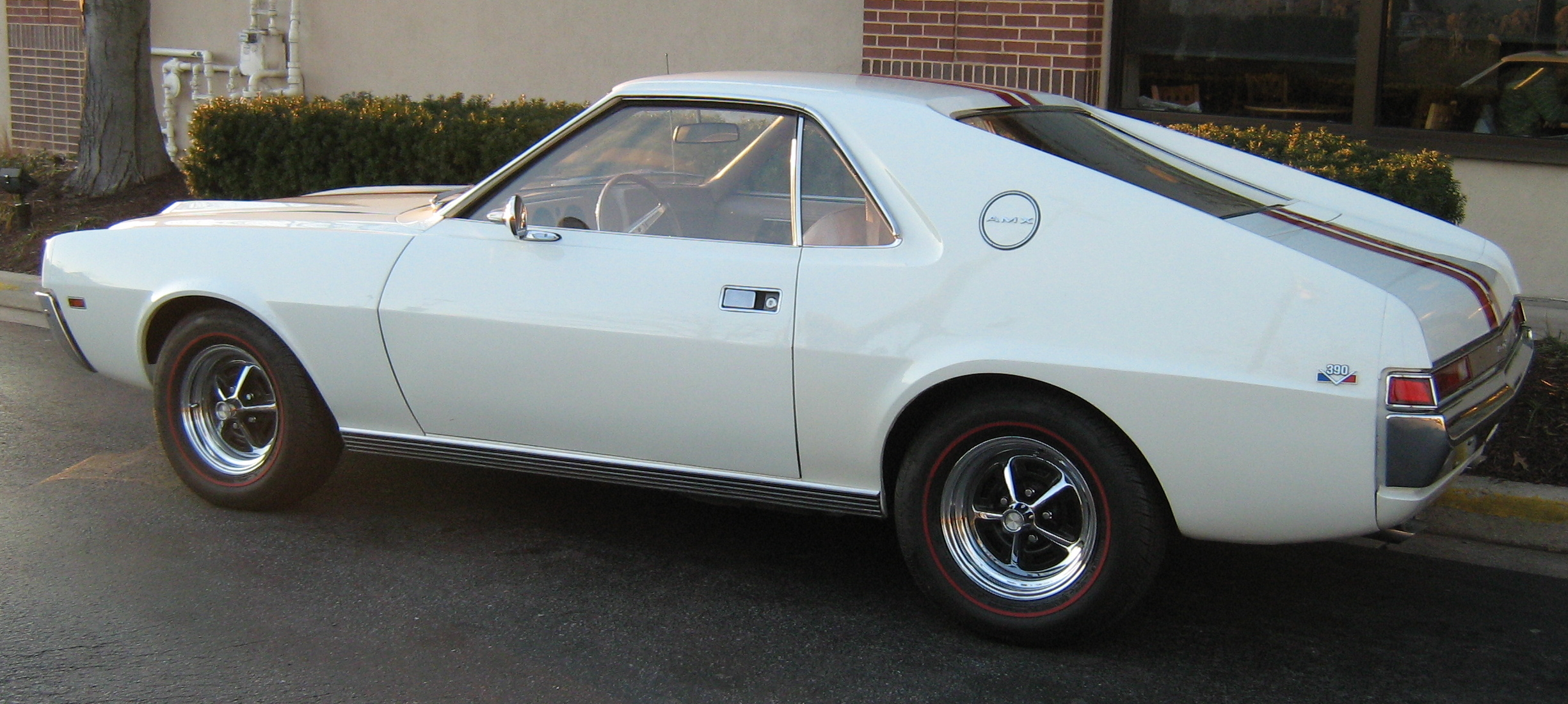 1968 AMC AMX "Go Package"