Vocational Education is defined as: Organized educational programs that are directly related to the preparation of individuals for paid employment, or for additional preparation for a career or profession requiring other than a baccalaureate or advanced degree. Economists have forecasted that the key to a successful and productive society is found in maintaining an educated workforce.
Whether you want a career in engineering technology, computers, welding, computer aided design (CAD), auto technology, auto collision repair technology, outdoor power equipment technology, diesel/heavy equipment technology, parts and service management, health care technology, bio-technology, food service technology, building trade technology, cosmetology, graphic arts technology or you want to be an entrepreneur; with seven career clusters to choose from, if you choose, you've come to the right place!
O-NET An On-Line database that identifies occupations, describes the required skills and/or abilities needed to perform the work, the work environment, what principles, techniques, and procedures are used to perform specific job duties, the use of special equipment and other important information necessary to be successful on the job.
You need to ask yourself this simple question:
Do you want a job, or do you want to be a professional in a career you can be proud of?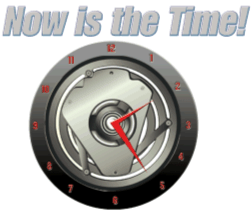 To start planning your future!
Homework is a critical component for successfully completing the technical curriculum.
Some additional information about vocational and technical education:
1. PA Programs of Study
2. Everyone Wants A Career That He Or She Loves
3. Demand For Auto Mechanics Revs Up
4. The Earning Potential of Career And Technical Education
5. Drivers' Latest Problem: Shortage of Technicians
6. America Is A Nation On Wheels
7. Vocational And Technical Degrees Defy Recession
8. Shortage Of Skilled Mechanics Is Getting Worse
9. Where Are The Techs?
10. Far Too Few Skilled Craftsman; Far Too Many Unskilled Lawyers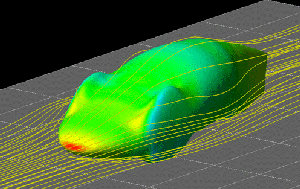 But once you find the perfect job, only one question that is then at the top of the list: What are you gonna pay me?
According to the Bureau of Labor Statistics (BLS), the median hourly earnings of automotive technicians and mechanics, including commission, were $13.70 ($28,500 per year) in 2000.
The middle 50% earned between $9.86 and $18.67 an hour. The lowest 10% less than $7.59, and the highest 10% earned more than $23.67 an hour. BLS points out that many experienced technicians employed by automotive dealers and independent repair shops receive a commission related to the labor cost charged to the customer. With this method, weekly earning depend on the amount of work completed.
"Employers frequently guarantee commissioned mechanics and technicians a minimum salary," according to BLS. Some master technicians earn from $70,000 to $100,000 annually,"
According to the 2001 Professional Automotive technician Survey, conducted by Underhood Service magazine, 28.9% of technicians surveyed said they are paid hourly only; 26.3% are paid salary only; 10.5% are paid hourly, plus receive a percentage of labor and parts; and 34.2% reported they were paid in "other" ways, most of whom said they were paid "flat-rate" for complet4ed service work.
Of those who are paid hourly, the average pay reported was about $21 an hour ($43,680 a year). This is slightly higher than the median reported by the BLS, but most to be "experienced" technicians with an average age of 40 years. Most of them have been working in. the industry for approximately 23 years and have been at their current shop for a little more than 10 years.
The body shop industry is pretty much on par with other mechanics and technicians. According to a 2001- 2002 profile prepared by Babcox Research, the average salary for metal-techs is $41,415; for painters, $45,457; and for mechanics, $38,028. In the body shop side of the automotive aftermarket, entry-level employees can expect to make between $21,000 and $25,000 annually.
If you're interested in a career in an automotive machine shop, rebuilding engines, you can expect to be hired in at about $9,22 an hour ($19,200 per year) based on 2000 survey numbers. Experienced machine operators average about $14.82 an hour ($30,825 per year) while core disassembly people make about $8.64 an hour.
In the tire industry, managers average about 43,399, while tire technicians average $24,711.
It should be noted that the annual salaries listed in this article are based on 40-hour workweek and do not include overtime pay, bonus pay or percentage of labor pay. As you can see, automotive service can offer a wide range of different jobs and varying salaries. Making the right choice for you depends on where your strong points lie, what region of the country you live in, and if you are interested in finding your nitch or in making a lot of money. Either way, Tomorrow's Technician as well as your instructors, parents and mentors can help guide you.
Types and percentages of fringe benefits reported by independent automotive technicians. Respondents selected all that applied t them.
From Tomorrow's Technician
Demand For Auto Mechanics Revs Up As Technological Changes Fuel Growth
By Lisa Heyamoto, Seattle Times August 25, 2002
Customers at the Jim Adams Auto Clinic in Shoreline are informed upon entry by a sign that there's a $500 charge for a clang-thud-clang sound.
For a ping-ping-ping? It's a steal at $50. And though auto technicians at the shop, which opened in 1966, actually have a stethoscope to amplify even the subtlest of car noises, it turns out a basic screwdriver makes a much handier tool.
"You have to experience it, you have to be in it," said Ivo Lovric, a 10-year veteran of the job. "You have to work on it with your hands."
But these days, auto technicians have to use a whole lot more than their hands and ears to diagnose an ailing auto.
Cars have evolved tremendously over the past 20 years, and the under-the-hood careers have kept pace with the changing technology.
Nearly every engine is controlled by a computer that gauges the vehicle's status through a series of sensors, and it's no longer the case that a pound on the hood and a turn of the socket wrench will get your car road-ready.
"The old days of mostly mechanical repairs are really gone and now it's learning how to do electronic work," said Dave Cappert, an executive director at Virginia-based Automotive Service Excellence, a national certification organization.
"Every piece of the car has changed so dramatically that there's hardly a technology that's the way it was 20 years ago."
It's this reason that the 840,000 workers in the country go by the title "auto technician" rather than the more archaic "mechanic."
The work, along with the name, has changed and the need for skilled, smart workers is on the rise. In King County, the demand for auto technicians is expected to increase by 3 percent in the next year alone, according to the state Department of Employment Security.
The U.S. Bureau of Labor Statistics predicts the field will grow by up to 20 percent by 2010.
Many technicians began their careers by tinkering with cars in their teens. But most anyone with some mechanical aptitude and an interest in fixing things can become an auto technician.
Those entering the field with a degree from an automotive-training program should have an easier time finding a job, the Labor Bureau predicts, but no formal education is needed for an entry-level position.
In Washington, there are 40 certified programs offered in high schools, community colleges or vocational schools.
Certification is not required for someone to work as an auto technician, but most go through the process. Lovric, who is certified, downplays its significance.
"It's not a big deal - it's just a tag on your sleeve that says you're certified," the 46-year-old said. "It's more about what you know and not what tags you have."
The three technicians at Jim Adams know plenty, and they split the tasks along lines of expertise - Lovric specializes in brakes.
This division of labor is quite common, Cappert said, so technicians can breeze through jobs without getting hung up on the unfamiliar.
Finding a niche is the best way to succeed in the business, Cappert said. Being a gas-tank guru or a carburetor queen works well within an individual shop, but becoming an expert on a particular model is the future of the profession, he said. Already, many auto shops have moved past the all-you-can-eat style of repair and limited their work to vehicles made by one automaker. For Cappert, the other half of success lies in continued education. With auto technology advancing as fast as it has, no amount of past experience can equip a technician for what's down the road.
"This is a trade where you just don't stop," he said. "It's not like you learn something and just practice it for the rest of your career."
At Lovric's shop, he and the other technicians attend seminars several times a year to keep updated, though his continuing education isn't limited to workshops in hotel conference rooms.
"You learn something every day - I don't care how good a tech you are," he said.
But a good tech needs good tools, and most auto technicians are responsible for providing their own.
That can get expensive. A quarter-sized socket can put Lovric out $30, and the behemoth toolbox can cost $6,000 alone. "You always need something," Lovric said. "You can buy tools for 20 years and still need more." Most auto technicians are paid hourly, though some may instead receive a weekly commission.
The average hourly wage is around $14, but some master mechanics can earn $70,000 to $100,000 per year, according to the Labor Bureau.
But for auto technicians such as Lovric, it isn't the money that keeps them in the shop.
"I'm not getting rich, but I'm happy," he said, standing in the oil-stained driveway in front of the old shop. "I just like to work on cars. It's a challenge to work on each one."
New title: AUTO TECHNICIAN
Old title: CAR MECHANIC
How many: 480,000 (NATIONWIDE)
Demand: NEARLY 100,000 MORE BY 2010
Pay: VARIES WIDELY, FROM ABOUT $14 AN HOUR TO $100,000 A YEAR
A Career and Technical Education is Rewarding in Many Ways - One of Which is Financial
A recent study examining the experiences of Milwaukee high school students graduating from the University of Wisconsin-Milwaukee (UWM) and the Milwaukee Area Technical College (MATC) looked at the wages of graduates from 1993-1998. Some of the findings in this longitudinal follow-up study, which was a collaborative project of the two institutions and the Milwaukee Public Schools, confirm the benefits in potential earnings of a career and technical education.
The top salary for male UWM graduates was for 1989-92 engineering graduates, who averaged more than $70,000 a year in 1999. In addition to mechanical and electrical engineering, automotive technology, economics, computer science and accounting all scored as top-paying areas.
1989-92 female graduates of UWM majoring in elementary education or accounting earned more than $55,000 annually on average in 1999.
For 1993 male graduates of Milwaukee Area Technical College, the highest wages were in tool and die making ($59,900 in average annualized wages in 1999), fire science ($59,388), apprentices ($53,232), microcomputer specialists ($51,616,) and automotive technicians ($50, 578).
1993 MATC female graduate apprentices earned $43,788 in averaged annualized wages in 1999. This included fire, police, electrical and plumbing apprentices, among others. They were followed by microcomputer specialists ($43,052), supervisory management positions ($42,564) and programmers/analysts ($41,676).
Much of this data is consistent with other studies, including a statistical analysis report released by the National Center for Education Statistics in May 2001. The study, From Bachelor's Degree to Work: Major Field of Study and Employment Outcomes of1992-93 Bachelor's Degree Recipients Who Did Not Enroll in Graduate Education by 1997, found that college graduates who major in the applied fields of engineering, business, computer science, nursing and other health fields earn higher than average full-time salaries.
Studies also show that earning potential increases with the level of educational attainment. There are a number of individuals in career and technical fields who go on to get masters and doctorate degrees, thus increasing their salaries. But those in trade and technical fields often update their skills to improve their opportunities for advancement into journeyman, supervisory and management positions.
Another report released by the National Center for Education Statistics in May examined earnings 10 years after high school. The report, Credits and Attainment: Returns to Postsecondary Education Ten Years After High School, also had consistent results with other studies, finding that an associate's degree increased earnings by about nine percent over a high school diploma, and those with bachelor's degrees earned about 23 percent more than those with no college.
The report cited a number of instances in which specific aspects of a postsecondary education were associated with higher earnings, stating, "This includes students whose course work was vocationally (as opposed to general education) focused, students with undergraduate majors in computer science, health technology, business, automotive technology and engineering, students who achieved a balance of breadth versus depth of study in their curriculum, and students who attained a cumulative GPA of 3.0 or higher." This confirms that strong academic performance and a well-rounded education contribute to future earning potential. This report strongly suggests that career and technical programs are important components at the secondary curriculum level and they help students achieve higher salaries in the years after graduation.
FROM: TECHNIQUES, THE PUBLICATION OF THE ASSOCIATION FOR CAREER AND TECHNICAL EDUCATION 09/2001
Many educators and parents think of auto-repair personnel as "grease monkeys." But their salaries can exceed $70.000
By Warren Brown, WASHINGTON POST
The automotive complaints I've been getting lately have little to do with vehicle quality. They're mostly about vehicle repair and service. The biggest gripes concern time needed for repairs and routine maintenance and the quality of the service rendered. Some of the complaints stem from infrastructure deficits. For example, there is the case of Volkswagen AG. A decade ago, the German car company's U.S. sales were minuscule, to put it mildly. Today is a different story.
VW is selling practically everything it can ship to (his country. Sales are soaring; but the company's dealers, long accustomed to little or no demand for their products, are having difficulty taking care of all the cars they sell. VW officials are aware of the problem, based on conversations I had with them in Germany and the United States, and they say they are taking steps to speed up parts delivery to the United States and to help American dealers improve their service and repair operations. But VW is running into an intractable problem that is causing service misery for many consumers, regardless of the vehicles they own.
Simply put, there just aren't enough qualified automotive technicians to go around.According to the National Automobile Dealers Association and other auto-industry groups, at least 35,000 more qualified technicians are needed to service the nearly 300 million cars and trucks on U.S. roads. Nonetheless, little is being done in the nation's schools to fill those auto-tech jobs, according to a study released late last month by Automotive Retailing Today, a coalition representing all major car companies and dealership groups. The problem is one of image, said Jim Willingham, chairman of the coalition.
Too many educators and parents see the auto-repair industry as a place for "grease monkeys," students who do not do well academically or who are not college-bound, Willingham said. "But today's vehicles are very sophisticated, computer-driven machines requiring technicians who can work with cutting-edge, high-tech tools. The day of the 'grease monkey' is dead," Willingham said. Students going into automotive repair and service nowadays must be schooled in mathematics, chemistry, physics, electronics and computer literacy, according to Willingham and other auto-industry experts. Companies in search of technicians with that kind of education are willing to pay big bucks to get them.
Master automotive technicians, for example, can earn $70,000 to $100,000 annually "doing something that can give them a great deal of job satisfaction," Willingham said. But even students who aspire to be master technicians often are pressured by parents to choose another career, he said. "Parents have the most out-of-date attitudes toward jobs in this sector," he said. "They question how intellectually challenging an auto-technician career [can be] for their child." The auto dealers' association has set up several programs to help overcome that bias in the home and in the classroom. The association has had some success in encouraging high schools and junior colleges to modernize their auto-technician/technology programs, emphasizing more training in electronics and computer literacy.
Reprinted from the Philadelphia Inquirer Feb. 14, 2002
By Larry Hecker
There are currently more than 200 million vehicles operating in our country. That's an increase of over 30% during the past ten years alone and forecasts call for growth of up to 250 million by the year 2010.
For a person looking for an exciting and rewarding career, the automotive repair industry represents an excellent opportunity. It's a dynamic industry that is constantly changing to meet the needs of a highly technical society. To encourage the rapid advancement of promising employment and to keep employees up-to-date on technical changes, manufacturers and service providers invest a lot of time and money in additional on the job training.
The job of today's service technician is a very demanding one. Today's vehicles are far more complex than they used to be and today's service bays are beginning to look like scientific laboratories with lots of expensive sophisticated diagnostic and repair equipment. The old grease monkey image is a thing of the past. Line technicians must now have an extensive knowledge of mechanical, electronic and computer technology. This knowledge must constantly be updated to keep pace with the rapid change of new automobiles.
Today's shop owner is caught trying to raise the level of training for existing technicians while struggling to locate a new breed of highly trained technicians required for these increasing complex vehicles. Ongoing automotive repair businesses require 35,000 additional technicians each year just to maintain the ratio of technicians to vehicles that exists now and it is extremely important that shop owners, both large and small, recognize the upcoming shortage of skilled, articulate and educated entry level technicians and do something about it now.
An automotive teacher at a Maryland community college said that of more than 300 students in the automotive program, all are spoken for. They are either employed or are in an apprentice program, training program sponsored by a dealer or repair shop. These businesses have invested heavily in these students future and expect them to work full time upon graduation.
Many large dealerships and retail chains employ service specialists who concentrate their skills in a single area like tune-up and diagnosis, electrical systems, front end and steering, automatic transmissions, brake systems and truck repairs. As more motorists expect quality work and to get complete and accurate answers from their service advisors, and technicians, it becomes more important that all automotive repair professionals understand and are trained with excellent communications skills.
Today's technicians need to understand that a background in business, electronics, mathematics and science is important. However, speech and language skills are even more important since much of the automotive repair business entails working with customers.
By Lucy Lazarony of Bankrate.com March 1, 2002
The economy may be slumping, but some growing and often-overlooked fields are clamoring for workers. And you won't need a bachelor's degree to apply. What you will need is some specific career and technical training.
Jobs for workers with vocational technical degrees and certificates grew by 6 percent from January 2001 to January 2002, according to the Employment Policy Foundation.
More than 419,000 Americans with vocational technical degrees landed new jobs during the year -- no mean feat during a recession.
"The continued strong growth of employment opportunities for people with vocational degrees and certification, even in the face of a recessionary economy, is truly remarkable," says Ron Bird, chief economist at the Employment Policy Foundation.
Despite layoffs in so many other fields, the demand for building construction, electrical and technical workers, skilled craftspeople, welders, machinists and auto technicians remains strong.
Just look at the auto service industry. The days of the grease monkey are long over. Today's cars come with more than a dozen computer systems, and an auto technician must be able to assess and analyze every one of them. Many auto technicians wear lab coats.
"Most of the work done today is done with electronics and diagnostics," says Don Gray, president of Automotive Youth Educational Systems, a group that matches dealers with high school students eager for training.
Simply put, there are more skilled technical positions than workers to fill them. To top it off, many of the more experienced technical workers are reaching retirement age.
The average age of a skilled tradesperson is 48. The average age of a supervisor is 51. Out with the old, in with the new "A lot of jobs are simply due to people retiring," says Kurt Morauer, director for training program development at the National Center for Construction Education and Research in Gainesville, Fla.
Many master craftspeople update and broaden their skills over the course of their careers. Replacing them in the work force is going to be a challenge. A new electrician has a lot to learn.
"To replace a master electrician who's retiring today is going to require more formal education," Bird says. "You can't take 40 years to learn it anymore."
But you will be paid nicely for your efforts. A residential electrician makes $25,000 to $45,000 a year. A commercial electrician pulls down $35,000 to $75,000 a year. And an industrial electrician commands $75,000 to $125,000 a year.
Often, the more specific a technical skill or craft is, the higher the demand and the higher the pay. A tool-and-die maker can earn $50,000 to $100,000. These highly skilled craftspeople make the tools and construct the metal molds, gauges and fixtures used in manufacturing.
"That's an old, old trade, and I don't think most people understand what it is. It's the artist of manufacturing," says Butch Merritt, director of job placement and cooperative education at Tri-County Technical College in Pendleton, S.C. "That's a real skill. Accuracy is so important."
There's nothing second-rate about these jobs or the intensive training required. So you can toss any stereotypes about vocational careers out the window. In today's job market, technical skills are paramount.
The folks at the Association for Career and Technical Education don't even like to say the word "vocational."
"We are desperately trying to get people to stop using the word vocational," says Steve Ackley, director of communications at the Association for Career and Technical Education. "Years ago, it was always looked upon that those classes were for second-rate students. They were the castaways."
But they are hardly castaways in today's job market. Employees with technical degrees and certification remain in demand while many employees with bachelor's degrees are being laid off. Job opportunities for people with bachelor's degrees have remained flat in the past six to 12 months.
Employment change by highest educational attainment January 2001 - January 2002

January 2002 total

12-month change

Less than high school diploma

15,908,416

-510,695

High school diploma only

40,450,000

-1,360,000

Secondary and Post-secondary technical degree

6,507,836

419,122

Some college, no degree

25,990,000

-890,000

Two-year academic degree

5,603,021

-14,835

Bachelor's degree

25,080,000

-90,000

Advanced degree

12,597,373

119,162
These days there are more people with four-year degrees than commensurate employment. Check out these statistics from Kenneth C. Gray, a professor of work force education and development at Penn State University.
Only 23 percent of work in the 21st century requires a four-year academic degree or higher.
Forty-three percent of four-year college grads are underemployed, which means they have jobs that do not utilize their degrees. Just ask any English major working at Starbucks.
"A four-year degree is a ticket to get in line for an oversold airplane," Gray says.
In contrast, there's a shortage of people with technical skills, including those trained at the two-year level.
"There's more seats on the airplane than people holding tickets," Gray says.
Health care and information technology are two of the fastest-growing fields that require just two years of training and study after high school. There are job openings just about everywhere for everyone from physical therapist assistants to dental hygienists to respiratory therapists.
"The economy has not affected these people one bit," Merritt says. "They don't need our help at the placement office."
Registered nurses are in particularly high demand.
"Hospitals are in bidding wars to win people over," Merritt says. "They give $3,000 to $4,000 signing bonuses. RNs can set their own hours."
As for information technology, more than 490,000 new positions for computer support specialists are expected by 2010, according to the Bureau of Labor Statistics. These jobs can pay as much as $40,000 a year. Desktop publishing, which requires a vocational certificate, earn comparable salaries.
"There are many paths to success, and all of them entail some sort of education beyond high school. But a bachelor's degree is not the only one," Bird says. "There's room for everybody to find their own niche."
That is a significant factor in the rising cost of repairs and the long wait many face at dealers' and others' shops.
By Jaweed Kaleem, Knight Ridder News Service. Sunday August 17, 2003
When George Bates said he wanted to drop his advanced-placement courses to take auto-repair classes, his high school guidance counselor was appalled.
"She told me I was throwing my future away," Bates said.
Today, Bates, 26, makes more than $85,000 a year as a top service technician at a dealership in Washington's Virginia suburbs.
One reason he makes so much is that skilled auto mechanics are in short supply. Some industry estimates put the shortage as high as 60,000 nationwide.
The U.S. Bureau of Labor Statistics says the auto-repair workforce needs to grow by 35,000 a year for the next decade to meet the sharply increasing demand.
According to industry experts, the shortage is greatest for high-end diagnostic experts such as Bates.
Post-high-school auto-repair programs that turn out highly skilled mechanics graduate 10,000 a year at most, according to the Department of Education. There are no figures available for high school graduates who have specialized in car repairs.
The mechanic shortage is a big reason that auto repairs are so expensive and that good repair shops sometimes keep customers waiting for weeks. In many cases, it is also why repair work is done badly.
Justin Bechtolt, a graphic designer from Astoria, Ore., knows the problems well. When his brother's Chevy Suburban broke down in rural Idaho, they had it towed 100 miles to a dealership.
"We had to wait one and a half days to get the car in the shop, and then had to wait another one and a half days to get it fixed," Bechtolt recalled recently.
Such dealership repairs generally are "too costly and too slow," he decided. So when his Honda Prelude's clutch needed repair, he took the car to an independent garage - five times. "They never got it right," he said.
"The auto industry is crying for help," said Denise Patton-Pace of Automotive Retailing Today, a nationwide coalition of automakers and dealerships based in McLean, VA. In a recent survey, 70 percent of her group's dealerships said they needed more qualified mechanics.
While auto warranties now cover more repairs on more cars for a longer time, and fancy options have made cars more complicated, the mechanic population has not kept pace.
Last year, 867,000 technicians were available to work on 221 million U.S. cars. That came to one for every 255 cars. In 1994, the number was one technician per 218 cars. The comparisons are based on figures from the Bureau of Labor Statistics and the National Automobile Dealers Association.
One explanation for the shortage is that virtually no women enter the field. More than 98 percent of car-repair technicians are men.
Then there are high-earners such as Bates, a diagnostic technician at Lustine Toyota-Dodge in Woodbridge, VA. He is the guy who steps in when the "check engine" light goes on. Engine and transmission overhauls are his specialties.
Bates was a mechanic while earning an auto-tech degree at a local community college. He went on to Purdue University in West Lafayette, Ind., earned an engineering degree, joined a defense contractor, and decided he liked repairing cars better.
"I'd love to have more higher-skilled techs" such as Bates, said his boss, Pete D'Alessandro, the service manager at Lustine Toyota-Dodge. As of last week, he had one entry-level vacancy.
Patton-Pace of the automaker-dealer coalition blamed the mechanic shortage on parents, teachers, and high school peers who stereotype repair personnel as greasy and low-paid.
"Today's dealership is not a dirty work environment; we need to dispel that myth," she said. "As a master technician, you'd be working mostly with computerized components, and could make from $70,000 to $100,000 a year."
Ralph McKinnon, who teaches auto mechanics to high schoolers in Burien, Wash., near Seattle, said he saw a lot of bias similar to what Bates encountered from his guidance counselor.
"I see a reluctance in counselors to let students take vocational courses, as opposed to college-prep courses," McKinnon said.
His school is part of a national coalition called Automotive Youth Educational Systems, based in Troy, Mich., that aims to improve car-related classes and provide students with apprenticeships.
Generally, auto-repair training relies on school-dealer partnerships. In Los Angeles, for example, the inner city Automotive Training Center, which has graduated 1,100 car-repair technicians in the last decade, has links to more than 100 employer-partners.
Such partnerships make sense for dealers, D'Alessandro, the service manager, said. "The biggest problem for consumers today is having unskilled and underqualified technicians repair their cars, making incorrect diagnostic decisions," he added. "This leads to more problems and higher costs for consumers."
From SHOPTALK, the newsletter of the International Mobile Air Conditioning Association
According to an Automotive Service Association (ASA) survey, ASA members say that word-of-mouth referrals and vo-tech schools are the most effective ways to find entry-level employees. The survey was conducted on the ASA Web site.
When asked, "Where is the best place to find entry-level employees?" 46 percent of ASA members completing the survey responded that word-of-mouth referrals were the best; 38 percent, vo-tech schools; 11 percent, newspaper ads and 5 percent rated other avenues as most effective.
Most of the shops completing the survey have less than three trainees in their shop (30 percent have none; 60 percent have one or two). The majority of shops, 82 percent, pay up front for educating their technicians. About 10 percent of the shops surveyed require the employee to pay first and then they are reimbursed after a certain amount of time. Six percent of the shops pay for half of the cost, while the technician pays half.
ASA advances professionalism and excellence in the automotive repair industry through education, representation and member services. Additional information about ASA, including past news releases, is available on the ASA Web Site on the Internet. ASA is headquartered in Bedford, Texas.
by Claude Lewis, Philadelphia Inquirer 10/28/96
A friend who came to the United States from France started a conversation with me that has stuck in my mind. His description of us and our work ethic isn't very attractive. I disagreed at first, arguing generalization about American workers. But the more I thought about what he said, the more I was persuaded. "No, no," he said. "Don't misunderstand me. I'm not speaking of all American workers, but I am talking about many of them." Alain earns his living repairing and building boast. He does wonderful work with his hands. He says it is troubling that so many Americans who thing of themselves as craftsman take little pride in their work. He thinks most Americans excel at nothing but earning overtime. To bolster his argument, he said he could look at any product made here and find ways to improve it. "Simple ways; not complicated or costly ways," he insisted. "Trouble is, Americans have learned not to expect high standards and quality because they are so rare." "Too many workers don't care how poorly they perform their jobs," he went on. "Many have no concern about how the final product turns out. If it passes the flimsiest quality control standard, they're satisfied. That's why Japanese cars are popular here. High standards. "Behind it all is that everyone in America thinks if you don't hold a college degree, you are not important, not successful. That's a huge mistake. In America, if you work with your hands, you lack status. A cabinetmaker in Europe is revered; in America, he's barely tolerated.: I was dismayed by the differences Alain sees in Americans and Europeans. He thinks too many parents want their children to be doctors or lawyers or architects, instead of artisans and craftsman. The result of this snobbish attitude , he said, is that millions of American men and women are in the wrong jobs. And many of them are unhappy.
"They are too busy pleasing parents and building family ego, they've made themselves miserable and it shows in their work," he said. As he spoke, I thought about a cousin who works as an insurance executive, but who spends his weekends transforming his once ordinary house into a thing of beauty. He takes much more pride in the work he does at home that what he does at his job. He is magnificent with his hands, but he will not work full time in the building trades because somehow such work is "demeaning" in our society. Perhaps my cousin would be happier and more prosperous if he spent his days doing what he loves most, which is repairing and improving homes. But his father would be very upset if he earned his living through manual labor. My cousin came from a good family, struggled through a good school, so there is nothing for him but to work in an air-conditioned office and drink too much. Our country has elevated the white-collar worker to a status unprecedented anywhere in the world. The price we pay for this much too costly. It has left us far too few skilled craftsman and far too many unskilled lawyers. Many of us take more pride in our titles than we do in our work. My cousin is a perfect example of a person who might very well be much happier with a pencil behind his ear and a hammer in his overalls than he is wearing a suit and tie while earning a living. Somehow, we have made clean hands a symbol of superiority. That may be precisely the thing that is keeping many of us from pursing, and excelling, at what we truly love.
Basic Automotive Systems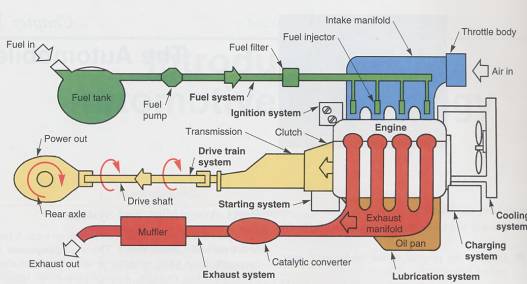 This Site Was Last Updated